2020 is starting in a bright way for the Romanian electronic music. Two of the most popular Romanian DJs, Adrian Eftimie and Optick have set up their own record label, called "Double Trouble". The two DJs have developed a strong friendship, one that has lasted for more than a decade, and which started at the DJ decks. When they play together, there is an atmosphere in the air that turns the party into one hell of a night. There is a unique chemistry and understanding between each other, one that makes them a perfect duo on the decks.
To mark the foundation of their record label, Adrian Eftimie and Optick are releasing an accompanying EP entitled "Primavera", which will come out on February 27th. The EP contains the original song with the same title, and a remix from Sllash & Doppe. The "Double Trouble" record label will have as a main goal to promote and support the Romanian electronic music artists, through musical releases and events. It will also seek to create stronger and productive bonds with the international electronic music scene.
Therefor, the release of the label will soon be followed by a national tour, which will kick off on March 13th where Optick and Eftimie will share the decks with Sllash & Doppe and the international artist Roy Rosenfeld. It will be an event that surely will keep people smiling and dancing 'till late in the morning.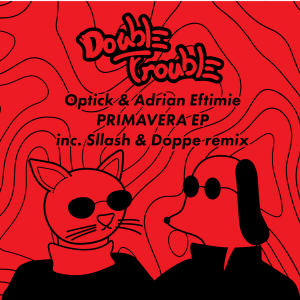 Double Trouble is meant to be more than a collaboration, more than a Record Label, it is meant to be a defining concept of Eftimie and Optick's friendship, one that will reflect the two DJs passion for musical production and for DJing during the numerous events that will follow soon. The two artists have an life motto that follow strictly: Let's get in trouble. Then make it double!
To stay updated with the news regarding their tour and the release of their first EP on the label, follow us and the boys on the Facebook page below:
https://www.facebook.com/cyclicagency/
For musical news and the latest radio shows, follow the boys on Soundcloud .
Optick: https://soundcloud.com/djoptick
Adrian Eftimie: https://soundcloud.com/adrianeftimie
You can stream the song here : https://youtu.be/KZbPqjC-wMc
You can stream the remix of the song here: https://youtu.be/jjbAlYawBd0